The magic to more sales and better customers is in your email list.
You have your own community of engaged followers that are so happy to be connected to you, listen to your wisdom and buy your products.
You don't get that anywhere else (at least when it comes to marketing.)
But…how do you grow your list?
You see how hard it is to build a following on social media now. It's really crowded with people and it's really crowded with all kinds of different products.
There are "influencers" and verified accounts on Instagram that EVERYONE aspires to. And while that's a wonderful aspiration and something to work for, the truth is it won't make you more money.
Unless you bring your ideal people into your community, where you can have one-on-one conversations and where nobody has to compete with the distractions of social media.
While you do need social media to put yourself and your brand out into the world, the real point of that is to bring people back to your own community.
Your goal is to have people opt into your own email list so you have direct contact and you can nurture and take care of the people that are interested in you and your business.
So how do you get people onto your list?
More specifically, what can you use to engage the RIGHT people and entice them to subscribe?
Why a lead magnet of course!
A lead magnet, freebie, opt-in bait (there are many terms for it) is a free piece of content that is an incentive given in exchange for your prospect's email address.
Unfortunately just asking people to join your newsletter list isn't much of an incentive these days.
The key to a good lead magnet is to make it valuable and actionable for your reader so that they experience a "quick win" or helps begin to solve a problem.
In the ecommerce world, opt-in incentives are usually a discount ranging from 10% – 25%
This is a typical ecommerce opt-in.

While offering a discount code may be the most popular, are they the most effective opt-in to pull your ideal client onto your list and into your community?
Groupon and Ebates are among the most popular coupon websites, with almost 70% of adults searching for digital coupons in 2019, for grocery, drugstore, mass store brands and superstore savings.
Discounts are common bait for typical ecommerce or well know corporate brands, but as one of my product maker clients said to me "my clients don't even use the discount, they wanna pay full price."
I don't know about you but that's exciting!
For creative businesses and handmade product makers, customers want to pay full price because they know the work and the energy that goes into creating your products.
People searching for artisan and handcrafted products are also searching for solutions to problems that are very near and dear to their hearts.
Another statistic I ran across in an article by Impact Communications states…
70% of people make purchasing decisions to avoid problems. 30% make purchasing decisions because it is an opportunity to gain something.
People want to "avoid" problems or "gain" something. Now, in this article, I couldn't find the source they used to verify this statistic, but it is intriguing, isn't it? 
I did follow a little breadcrumb that did lead me to 4 Steps to Figure Out How to Solve Problems for Your Prospects. One of the questions is"
…what living hell will your clients endure if they don't have your product or service?  Think in terms of what pain, frustration, hassle, disappointment, hardship your product or services take away.
While this isn't a sales lesson, we can use this tidbit of information to create a lead magnet that really helps our would-be customers solve a frustration, a common problem or a challenge that they just can't seem to find the "right" answers…for them.
How can you create lead magnets that help your would-be customers avoid problems and gain "something"? 
What you want is something very specific to your brand as well as something specific to your audience that they'll want to help them find you as a solution.
A valuable nugget of information that will help move them along not only in their buyer's journey and help in their decision-making process but give them a little piece of you that they can "try" as they're getting to know you.
What do you need to know to create a lead magnet that will grab someone's attention and "convert" them to your list?
Has a high perceived value

– meaning your reader sees this as information they can use to…

Solves a problem they are facing

. Show your reader you understand their struggle and offer suggestions on how to solve it. This also…

Establishes you as an industry leader

. This builds know, like and trust. You become to go-to person in their eyes.

Make it EVERGREEN

. This means that your information is just as good 1, 2 5 years from now as it is today.

Helps your reader become familiar with your product and your brand.
Let's get into some lead magnets ideas
Here's one of my faves. Indigo Wild – Zum Soaps is a fun and quirky handcrafted soap company. Their email list opt-in isn't a guide or checklist but you do get a freebie with your order and you become a Zum Insider.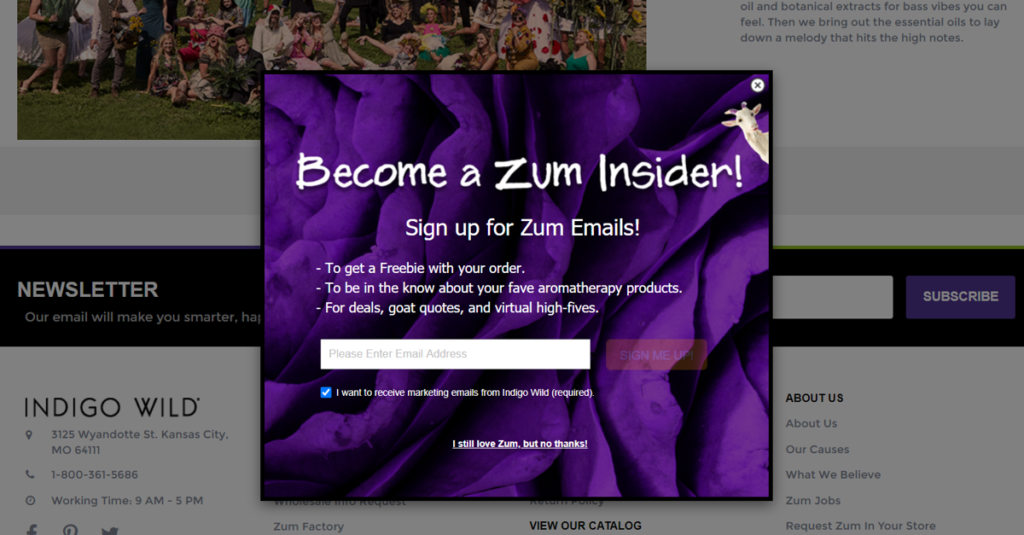 Old Soul Artisan Candle has their opt-in way at the bottom of the page (not where you want your opt-in because most people don't make it to the bottom of the page.) Though I see some real potential for quick guide like… "Candle rituals to get in touch with your dark side"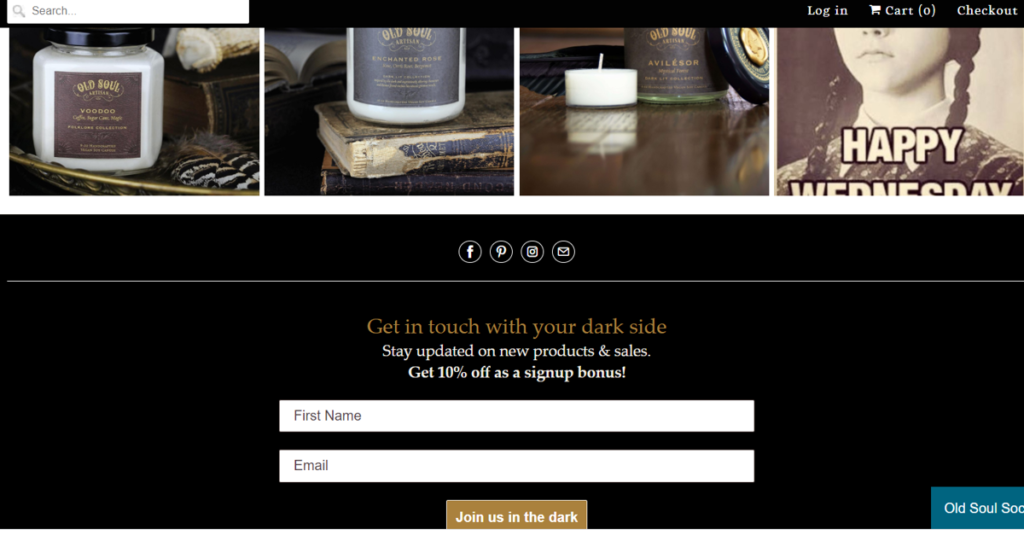 T31.com had an interesting opt-in…a pop-up for face masks. For any artisan brand, pop-ups not only work for a lead magnet like a guide, checklist or ebook, they also work for seasonal or special offers you're selling.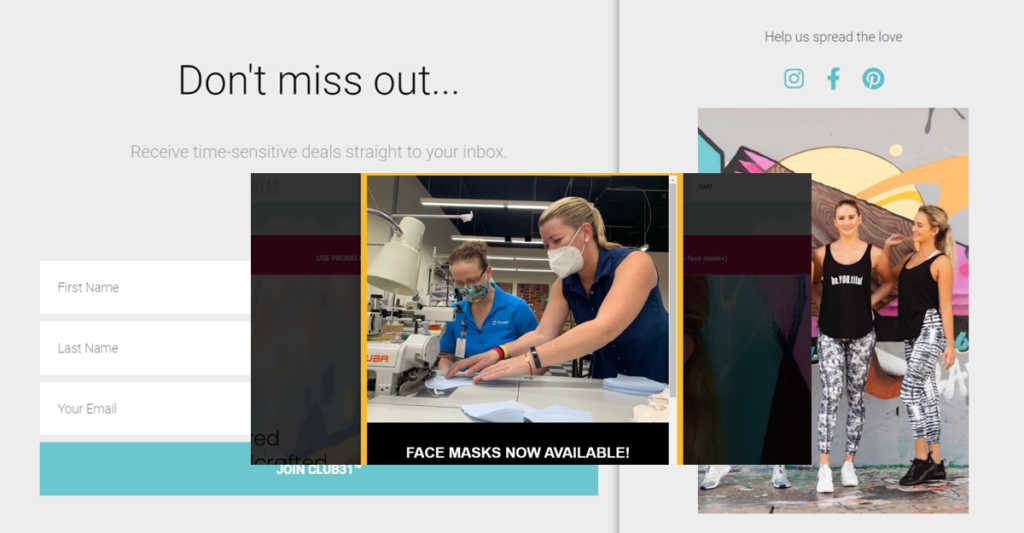 They so also have a traditional newlsetter op-in at the bottom of their site…which instead of time sensitive deals they could offer a guide on how to wash your artisan athletic clothes for longer-lasting wear.
Or tips for women on how to…
Run far, play hard, and change the world – become the best, healthiest version of yourself
You don't necessarily have to create a special lead magnet if you're like Fran's Chocolates and offer "Notes from Fran". These could be fun dessert ideas or recipes for birthday cakes or even how to plan 12 months of sweets for your sweetie. You get the idea.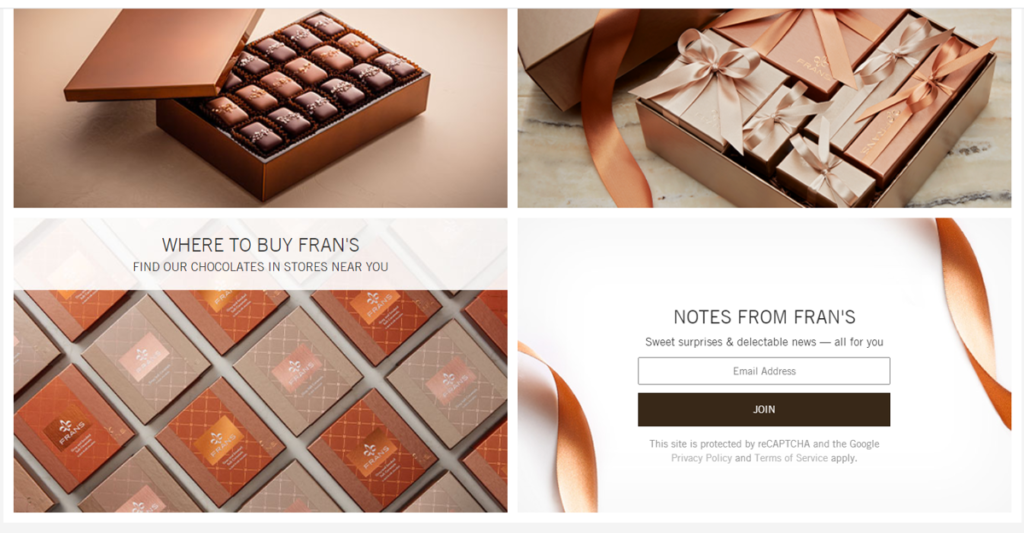 Other lead magnet ideas
If you create natural skincare products:
How to keep your handmade products fresh 
A Guide to Organic Ingredients
3 easy steps to clean and healthy skincare
If your brand is women's athletics: 
How to refresh your body post-workout in 10 minutes
10 best outdoor workouts
Clean gear checklist – keep workout clothes looking new even when they're not
If you're a chocolatier:
The little guide to chocolate and wine (or beer) pairings
From bean to bar – how chocolate is made
Chocolates from around the world – A guide to tastes and textured from different regions
If you're a vegan chef:
How to store your veggies so they stay fresh 
Vegan ingredients you won't believe are vegan
5 quick and easy vegan main dishes
If you make candles: 
How to get the best burn from your handmade candle
 Quick and easy checklist to keep your candles glowing longer
The proper way to snuff out a candle – infographic
Want the pdf of these? Grab it HERE
Or here —> 

Creating a lead magnet or two is a little more work than using a "boilerplate" opt-in or generic newsletter template.
But the results of your extra work means a community of people that WANT to see what you have to offer and hear about brand!
If you don't have it in your to create this…I can do it for you!