The Maker Marketing Academy…Waitlist
Are you tired of muddling through your marketing?
And not getting more sales from your social media – "likes" on Instagram and Facebook aren't money in your pocket.
Or looking for help for someone like YOU –  a product maker (not a bro-marketer or internet guru.)
Where you can get some hands-on guidance to write messaging that matter through all the maker mayhem.
Then add your name and email to this form so you'll be the first to know when to grab your seat at the Maker Marketing Academy table.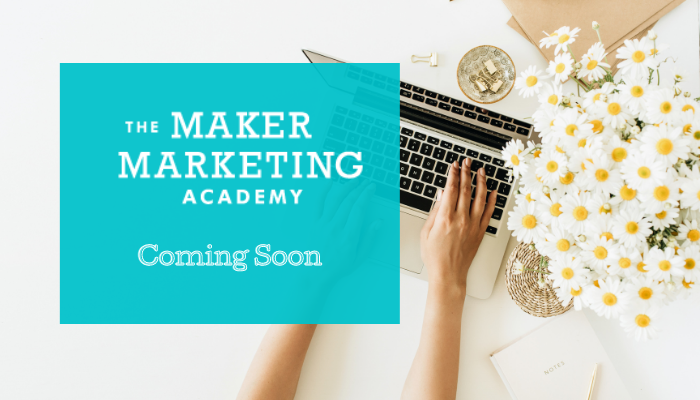 What is this Maker Marketing Academy thing?
Because you've had it with spending money on pretty pictures and doing FB lives that only get your friends coming in and saying "hi."
You want more sales!
I'm creating a marketing community specifically for product makers where you'll:
Get marketing ideas and techniques that work for your kind of products.

Learn how to gather VOC (voice-of-customer – don't worry, I'll teach you) because all great messaging starts with your customers.

Understand how to write your best copy to empathize and connect with your audience – which means loyal customers that trust you.
And, where you'll have a place to feel supported in your business because we're just like you…handmade product makers, artisan soap makers,  all-natural cosmetic formulators, chocolatiers and personal chefs…
I'm a maker too! (I speak your language.)
My first business, Hampton Baby, I created a line of soft, sweet baby clothes which I made and wholesaled (Julie Andrews bought one for her grandson 😁.)
Then one day bathing by kids, I read the baby lotion bottle ingredients – GROSS! I tossed that bottle out and began formulating my own natural skincare products. That was in 2000.
And as it ends up, I love writing copy, creating campaigns and figuring out what works – and what doesn't.
I have walked in your shoes
(ugly cries, sweet successes – all of it)
18 years later – I went all-in on conversion copywriting and now help other makers to stop hating marketing and to love write messages that connect and engage customers.

WIIFY – What's In It For You
My goal is to help you grow the blossoming business that you're so proud of. To help you love marketing. And to give you lessons you'll actually use. 
Best part…
It'll be a subscription you can afford by just selling either a few bars of soap, a couple of candles, or three bottles of lotion. 

Bitesize video & audio training with actionable lessons - so you can do it and move on.

Monthly hotseats and Q&As - so we can all brainstorm messaging ideas together.

Plus challenges, planning & strategy sessions, and tips to keep you motivated and moving forward.
And don't worry, this is not a lifetime subscription (where you're first-born is your deposit.)
You won't be tied to a contract. And you can stop at any time.

"Amazing! I know I make good products. I've worked on them for years. But to have the product, description & photo tie it all together feels like an amazing accomplishment, and it proves itself in sales."
"It was created for product makers. It was yours! I had taken other marketing courses, and some touched on products, but not really in a complete way. Online downloads type business models and coaching seemed to be a bigger audience in those courses."