Product Descriptions That Sell
You've written product descriptions, but wonder why no one is clicking your BUY button.

"Wow! I might cry! Your words are perfect. I love the little quoted parts sprinkled in there too. And I just got a huge order."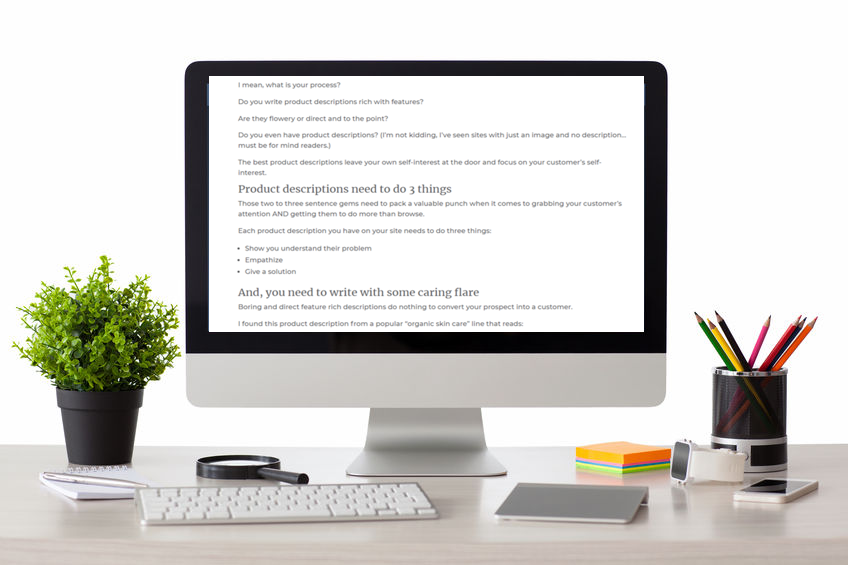 "Can I hire you to write my product descriptions?

"
Why, yes…yes you can!
You've written product descriptions, and are wondering why no one is clicking your  BUY button.
"We need help with writing catchy, upbeat, informative (but not boring) product descriptions."
Without captivating, or worse…generic, product descriptions, your customers gloss over products that sound flowery and meaningless.
Product descriptions not only detail your product's features, they give the benefits as well. But that's not all…see this can also lead to some very literal (and boring) copy.
The right words make a difference to your customers, and sell products.
And then there's the struggle for good product descriptions that don't make claims…and don't sound lackluster.
Writing product descriptions that sell means answering your customer's burning questions so they feel heard while expressing benefits will help in their transformation…and wrapping them in your brand personality.
Remember that you're writing for humans.
Using VOC (voice-of-customer) data your product descriptions also want to tap into how your ideal customer is feeling…so your customer self identifies with "hey, that's me."
The best product descriptions have a unique way that makes your customers feel like they are getting advice from an old friend who genuinely cares.