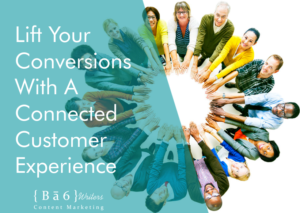 Just because you build it, doesn't mean they'll come.
Marketing has been heading in the direction of "focusing" on the customer experience to "battling over it."
In a State of Marketing report, two-thirds (68%) of marketing leaders surveyed say their company is increasingly competing on the basis of customer experience. (MarketingCharts.com)
It's not enough to deliver great customer service anymore, you have to deliver an entire customer experience – and a great experience at that.
Customers want to feel good about working with you.
Customers want to feel that you are on their side and that you have their best interests at heart. They want to "long" to work with you but if you don't understand what customers crave then you stand a chance losing them.
Your competitors are aware of the importance of creating customer value, but aren't sure what is truly valuable in the eyes of their customers.
By using data-driven personalization you'll know how to create the value your customers crave.
Bonus: Download your Levels of Awareness guide to find where your customers are struggling.
Stuck trying to figure out what your audience needs?
Most customer experience efforts start with the company perspective, but coming from here means you see your customer experience through your eyes, not theirs.
Put yourself in their shoes to understanding how they view you and your company, and most importantly what they expect from you. You can find out what your customer expectations are by asking them. Surveys, polls, and interviews allow you to directly gathering the data you need to get into your customer's head.
The key to designing these experiences is first developing a deep understanding of what your customer segments love and hate.
There's not just one customer type.  There are many.
And these groups are not defined based on traditional demographics, such as age, gender, and income, but on interests, activities, and associations which people freely and routinely express in social media.
If you're trying to define what (you think) they NEED, you need to back up and take a different approach.
Listening to what your customers WANT by utilizing a platform to talk about, discuss, and understand their problems and sticking points. With a good and consistent way to gather feedback, you'll gather data that will help you personalize messages across your media.
Success in these efforts appears to be at the forefront of marketers' minds.
With a variety of benefits – such as customer loyalty, revenue growth, and customer engagement – in play, three-quarters say that creating a connected customer journey across all touchpoints and channels is critical to the success of their overall marketing strategy. (MarketingCharts.com)
Content personalization is #1
In an article by MarketingCharts.com, content personalization is the number one strategic capability in the next 18 months. New research shows that B2B marketers are prioritizing content personalization to engage customers, create a better experience and get a lift in conversions.
This year shows a big increase in the use of personalization for customer journeys: 40% are personalizing specific journeys (up from 31% last year), and 33% are personalizing the post-purchase journey (up from 20% last year).
Email (90%) is by far the most common area of personalization for these marketers, though a majority (53%) this year are also personalizing their websites. (MarketingCharts.com)
In fact, the use of various types of analytics is expected to rise in the coming years, ranging from website analytics (61%, up from 49%) to email optimization (51%, up from 36%) and mobile app analytics (44%, up from 30%). (MarketingCharts.com)
Planning your customer experience is an innovative design process.
B2B marketers identify their biggest hurdle in C-suite expenditures as budgets being focused elsewhere (51%).
More than 4 in 10 also see budget difficulties arising from sales being considered more vital than marketing (41%).
That brings to mind research from a few years ago, in which only 8% of B2B marketers reported working in an organization where marketing drives much or all of the revenue and leads growth and lead generation strategies.
By contrast, 34% came from organizations which are sales-led, where they play a more supportive role to sales and have less of a say in growth strategy and product direction. (MarketingCharts.com)
There are C-Suite conversations and key executive alignments that must occur for any company attempting a customer experience focused transformation. An emphasis on accountability to the customer by everyone in the company is a must if you want to see growth and conversions.
It doesn't matter what you do for a living or whether you work with internal or external customers and stakeholder. What does matter is that you to think through your customer's current experience and discover ways to improve that process.
It's more effective to keep a customer happy than it is to get a new customer.
Articles and blog posts are the most effective content types for moving prospects through the funnel, with whitepapers, video and research reports next on the list.
Websites, landing pages (62%) and home pages (61%) are the most likely to be personalized by marketers. (MarketingCharts.com)
Chief Marketer's study demonstrates that email is still the strongest channel in the B2B marketer's toolkit. Not only are respondents most likely to say that it's their largest source of leads, but also that it produces the highest ROI leads. (MarketingCharts.com)
How can you use personalization for your customer experience?
Start with things you already know. Bring your knowledge to the forefront of your thinking.
We all get caught up in our daily routines, thinking things are working fine. By bringing knowledge back to the forefront you can go that little extra mile to make things that are working fine, into things that are working even better.
Add it all together and the majority (61%) of marketers indicate that they've become more focused on evolving from a traditional marketing structure defined by channels and functions to one that emphasizes roles aligned with a customer journey strategy. (MarketingCharts.com)
Dig deep!
Take the time to poll your audience and ask your customers what they want!
Some 39% of company marketers report a major uplift in search engine marketing conversion rates as a result of implementing personalization. While that's down from last year's 46%, the proportion experience an uplift of some degree increased marginally to 93%. (MarketingCharts.com)
How do they want to receive your content? Email? Whitepaper? Ebook?
Make it (your content) all about "them!" The only time you should even hint about YOU (your company) is giving information that can begin to solve your customer's issues.
Focusing on your customer, making them feel "special" and delivering content in a way that matters to them drives up the customer experience.